NEWS
[Deadline extended: 11/8 17:00] 2023-2024 Winter Abroad Program at Yonsei University
We are pleased to announce the call for undergraduate student participants for 2023-2024 AEARU Winter Abroad Program at Yonsei University,
to be held from December 27 (Wed) 2023 to January 17 (Wed) 2024.
Participants can choose from various major courses in Korean Studies, Science and Technology, Social Sciences, East Asian Studies, and Management and Economics, and/or take a Korean Language course. 
This program is designed for undergraduate students, but graduates students can also participate.
We would be excited to hear back from you!
Session Dates

December 27 (Wed) 2023 – January 17 (Wed) 2024

Eligibility

Tokyo Tech undergraduate students (This program is designed for undergraduate students, but graduate students can also participate.)

Venue

Yonsei University (Seoul, South Korea)

Number of Nominees

1 student

Application & Program detail

https://www.titech.ac.jp/students/abroad/programs/aearu-winter

Fees

Students who are nominated by Tokyo Tech and successfully accepted

their nominations by Yonsei University will receive 50% tuition fee

discount.

Scholarship

There will be chances to receive a scholarship from Tokyo Tech.

(MEXT scholarship students and Foreign Government Sponsored

students are not eligible for this scholarship.)

Deadline

Wednesday, November 1 November 8, 2023 at 17:00  

Date of interview

Monday, November 13, 2023 (between 15:30 and 16:30)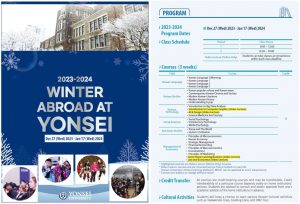 Contact & Application Submission:
International Engagement Division
Email: kokuren.kik.cho@jim.titech.ac.jp
Tel : 03-5734-3016