Entry requirements and registration procedures
Entry registration procedures
●Basic and Intermediate
Registration to enroll in GSEC Basic and Intermediate levels must be completed through the Web System for Students and Faculty in April and September.
●Advanced
Read and understand the entry requirements, and submit the application form and necessary documents to the Support Office for the Promotion of Global Human Resource Development.
You will be notified of your results via email after the application and necessary documents have been accepted.
Entry requirements for Advanced
Graduates with a Tokyo Tech bachelor degree

Graduates who have successfully completed the previous (AY2013-2016) GSEC or GSEC-Intermediate.
Documents

A photocopy of the Certificate of Completion of the Global Scientists and Engineers Course
Graduates with other university bachelor degrees

Graduates who fulfill the following conditions:
a. Completed one of the following tests with the minimum test score or level requirement:


TOEFL iBT, 80 points/TOEFL ITP, 550 points/TOEIC, 750 points/IELTS, 6.0 points/EIKEN Grade Pre-1


b. Provide proof that s/he has the basic level of "global competences" equivalent to GSEC-Intermediate.
Documents

Documentation (such as certificates, etc.) proving that the applicant has the global competencies equivalent to the GSEC-Intermediate
An essay describing how the applicant possesses the global competencies necessary to enroll in GSEC-Advanced (400-800 words)
A photocopy of the applicant's official score report(s) for English language proficiency
Submit to: The Support Office for the Promotion of Global Human Resource Development
Taki Plaza B1, Ookayama Campus (Mailbox: TP-004)
Taking Courses
●Basic and Intermediate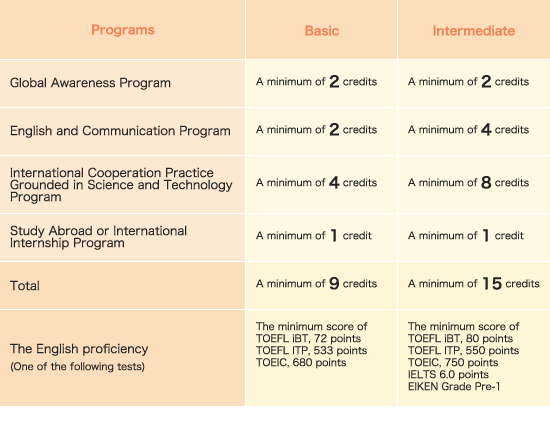 ●Advanced
Students must attain 4 credits from the courses on the completion requirements list, and study abroad for 8 consecutive weeks (minimum 40 study days)
For more details, please see the completion requirements list for Advanced.【Completion of Advanced level】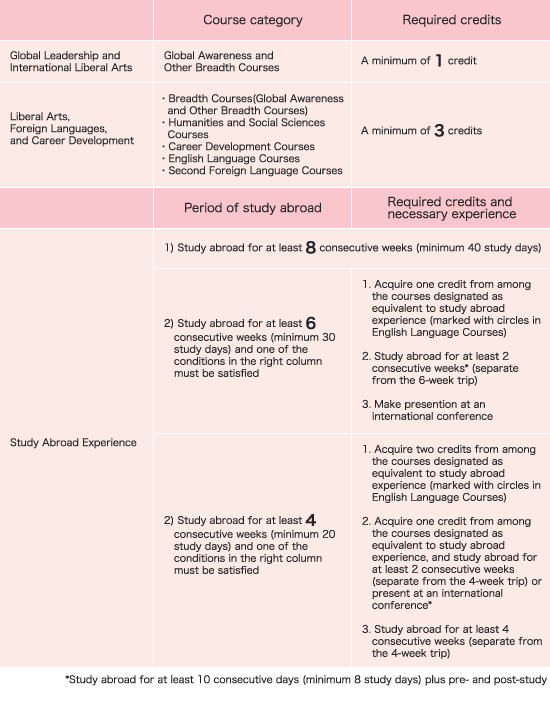 Flowchart for completion requirements for study abroad experience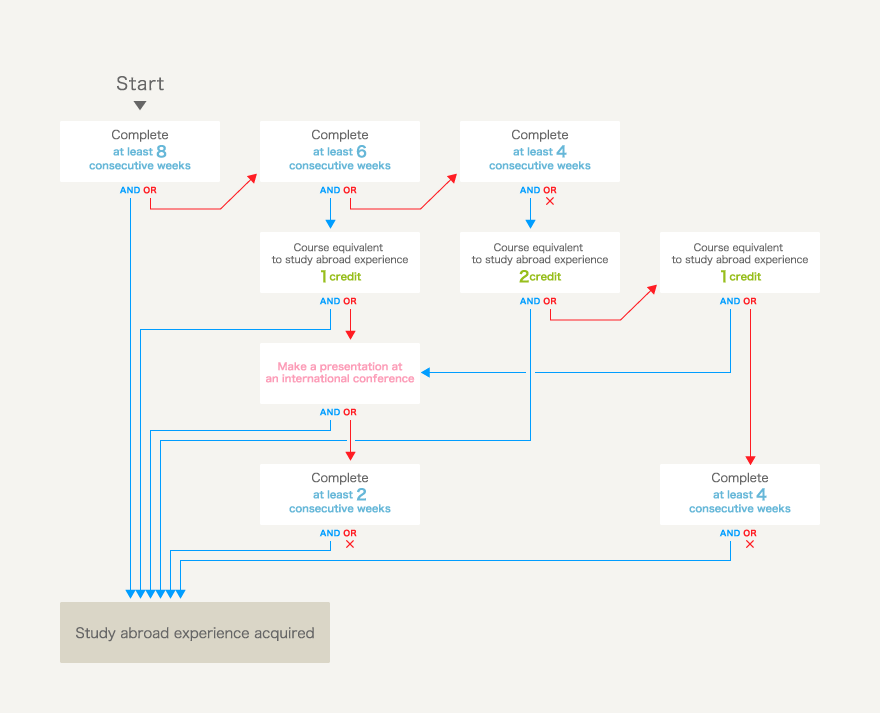 Students must be recognized as possessing the international experience necessary to acquire GSEC-Advanced skills. To receive this recognition, students must submit the following request to the GHRD Office.
If acquiring credits from courses designated as equivalent to study abroad experience to satisfy requirements, students must indicate that they are course equivalents on the Web System for Students and Faculty.
Procedure for completing GSEC
Students must fulfill their learning portfolios and submit a request for course completion through Tokyo Tech Portfolio.