Tatara Iron Making and Blacksmithing Practices Conducted at Suzukakedai Campus – "Traditional Technology and Intercultural Co-learning"
NEWS
Tatara Iron Making and Blacksmithing Practices Conducted at Suzukakedai Campus – "Traditional Technology and Intercultural Co-learning"
Global Scientists and Engineers Course (GSEC) launched a new course "Traditional Technology and Intercultural Co-learning" in the academic year 2020, aiming to forge a new form of international education. Focusing on traditional technologies, this course is designed to help students develop insight into the relations between their home countries and other countries around the world.
The course was developed from the "Tatara Steelmaking Workshop" that was jointly held with Massachusetts Institute of Technology (MIT) and Harvard University in the past three academic years 2017-2019.
Tatara is a traditional process of producing high-grade steel from iron sand and charcoal. Compared with modern steelmaking methods, the tatara process requires considerable time and shows low yield, increasing production costs. Today the process is used almost exclusively for the manufacture of Japanese swords and for passing down tatara techniques.
In addition to international exchange, the series of the Workshops provided participant students with valuable opportunities to recognize the significance of learning about their own cultures through the traditional "monotsukuri (manufacturing)" processes and was highly appreciated by participant students and teachers. For this achievement, two Workshop organizers from the School of Materials and Chemical Technology received the Tokyo Tech Education Award for "Management of Activities for Understanding Traditional Technology through Collaboration of Students from U.S. and Tokyo Tech."
In establishing this course, the faculty of GSEC and the School of Materials and Chemical Technology who organized the Workshop collaborated with faculty from the Tokyo Tech Academy for Leadership (ToTAL), and further, faculty from the Institute for Liberal Arts joined the course. This interdisciplinary collaboration enabled the course to encourage students to develop a deeper understanding and appreciation of traditional technologies.
Specifically, in this course, Japanese students and international students study and discuss in groups tatara iron making and its product Japanese iron as well as situations surrounding traditional technologies of their home countries. Building on the group discussions, students make proposals for business (products using Japanese iron) and schemes for disseminating the products internationally. Students from diverse countries work on the same task and project, and thereby gain a deeper understanding of different cultures and international co-learning skills.
The course consists of the following sessions;
1. Lectures (in-person) and self-paced learning with online video materials

2. In-person group work (information sharing and presentation on traditional technologies of students' home countries, related industries, history and culture, societal background, and usage of traditional iron)

3. Hands-on practices including 1) charcoal cutting 2) tatara iron making and blacksmithing (paper knife making), and 3) Japanese sword appreciation

4. Final presentation on proposals for products reflecting traditional technologies of students' home cultures and Japanese iron and schemes for promoting the products.
Display of Tatara Equipment and Iron-making Practice at Suzukakedai Campus
This year's course was held from March 18 to July 6, 2022, with 7 Japanese students and 6 international students. In the academic years 2020 and 2021, tatara iron making and blacksmithing practices were conducted at the waste collection site in Ookayama Campus. Thanks to the extensive support of Suzukakedai Safety Management Group, this year, those practice sessions were able to be carried out using a spacious space in front of the G1 Bldg. of Suzukakedai Campus.
Prior to the practice sessions, equipment required for tatara iron making including "fuigo," or bellows and posters illustrating tatara processes and explaining past international exchange activities were displayed at the lobby of the G1 Bldg., for the purpose of promoting understanding of Japanese traditional technology as well as Tokyo Tech's initiatives for international education.
*1 Fuigo, or bellows, is a tool used to blow air into a tatara furnace, and the one in the photo is a tenbin (balance) bellows. Two people on each end step on it like a seesaw to send air through.
Practice Day 1 (June 1): Charcoal cutting
The iron-making practice starts with preparation. On the first day, the participant students cut charcoal into pieces suitable for tatara and blacksmithing furnaces. The charcoal was cut into small fist-sized pieces by splitting a large piece of charcoal in the same manner as chopping wood. The wind was very strong and everyone's faces were blackened by the flying charcoal dust, but they were able to cut a sufficient amount of charcoal. After the practice, the students worked together to clean up the dust and prepared for the next week's practice.

Practice Day 2 (June 11): Tatara iron making and blacksmithing practices (paper knife making)
On the second day of the practices, the students finally had a chance to experience tatara iron making and blacksmithing. Blessed with good weather, and with the support of a voluntary organization " Tatara Manufacturing Education Community," Tokyo Tech alumni, TAs, and faculty and staff members, the practice was held on June 11. First, one tatara iron-making furnace and four blacksmithing furnaces were built using refractory bricks.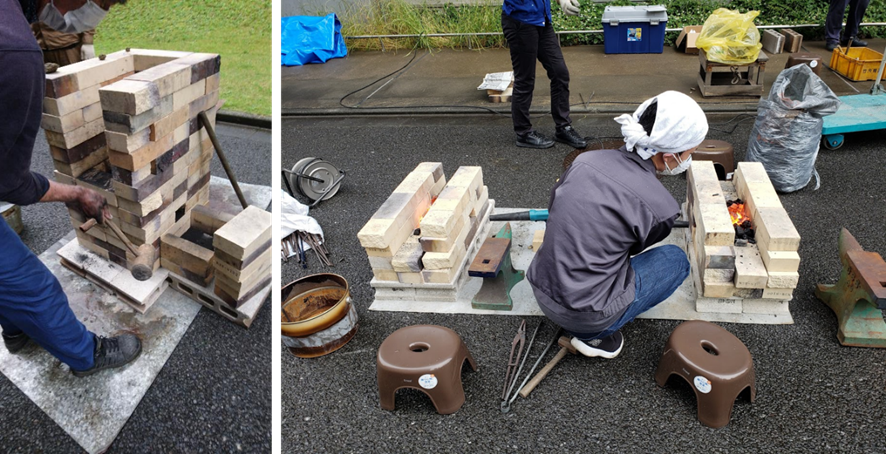 Charcoal was placed in the tatara furnace and ignited, and as the heating was in progress, blocks that serve as chimneys were stacked on top of the furnace. Some students tried their hand at sealing the flames leaked from the gaps between the bricks with mortar.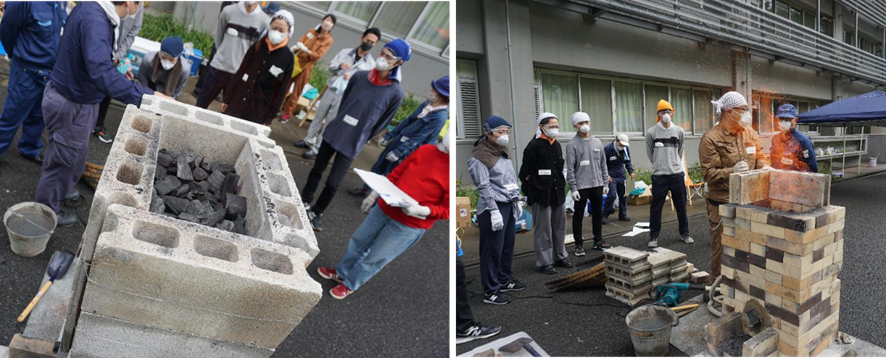 This is where the fuigo on display in the lobby of the G1 Bldg. was brought into use. The fuigo was connected to the tatara furnace, and everyone took turns stepping on the fuigo to blow air into the furnace, a task that requires endurance as all four people must keep stepping in unison.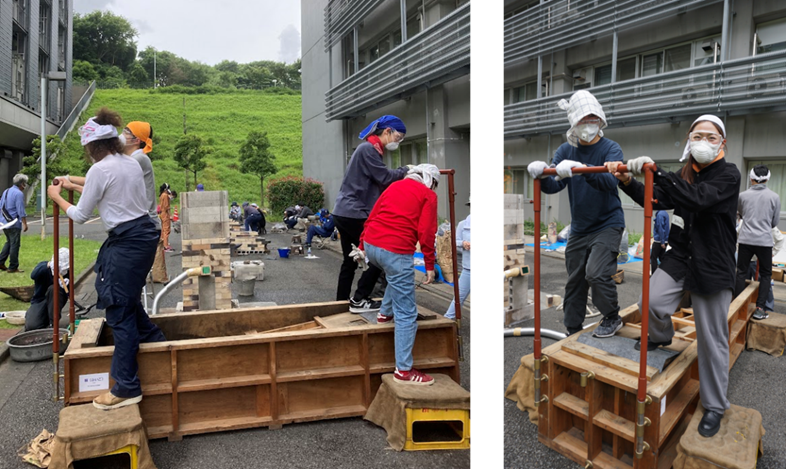 When the temperature inside the furnace reached the desired level, they poured iron sand into the furnace. Through charcoal combustion, the iron sand was partially reduced to metallic iron, and the remainder became oxide melt called noro, which looks like lava.
After all of the iron sand was added to the furnace, and the charcoal was completely combusted, high-grade Japanese iron called "kera" can be taken out of the furnace. The students deconstructed the furnace, and two volunteers, who were confident in their physical strength, succeeded in taking kera out while everyone else was watching over, a highlight of the day ended with laud applause.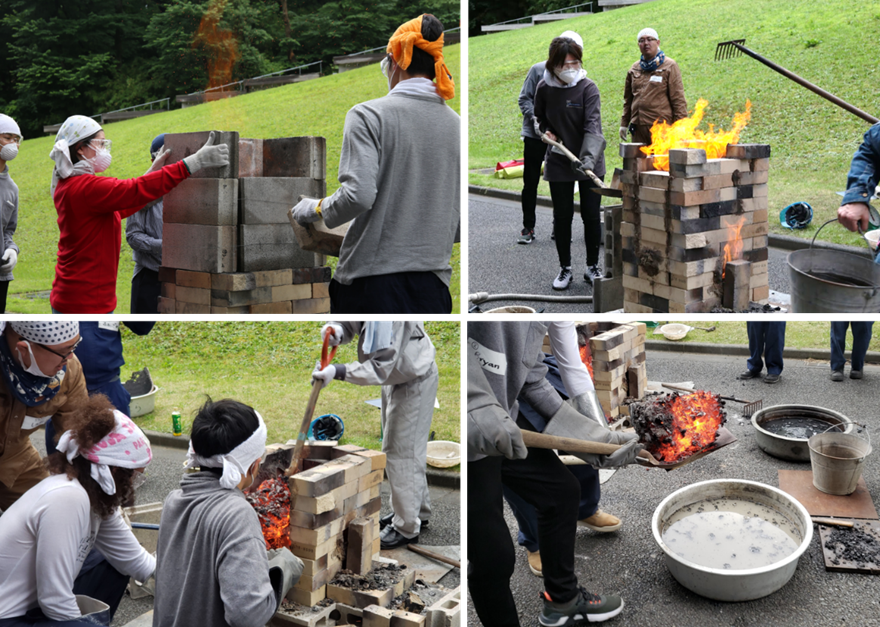 In full-scale tatara iron making, 10 tons of iron sand and 12 tons of charcoal yield 2.5 tons of high-grade iron (Japanese iron). In a simplified tatara furnace, 70 kilograms of charcoal and 20 kilograms of iron sand yield about 5 kilograms of Japanese iron, leaving only 2 to 3 kilograms for the final product. The highest-quality part of the iron made using tatara method is called "tamahagane" and is used in the manufacture of Japanese swords.
This year's participants successfully produced as much as 5.8 kilograms of Japanese iron.

In the blacksmithing practice, the students created paper knives of their own design by further forging wrought Japanese iron, which had been folded into a thin plate shape.
The students were hesitant at first to try the flames of the furnace and the heat of the iron, but they were able to experience the sound and vibrancy of striking iron and the flexible feeling transmitted to the hands, and completed paper knives each of which is unique in the world.
Practice Day 3 (June 25): Japanese Sword Appreciation
The Japanese sword appreciation practice was held at the studio of one of Japan's foremost swordsmiths, Tsuguyasu Matsuda, in Chiba City, Chiba Prefecture on July 25. Being able to reproduce traditional Japanese swords of the Kamakura Period (800 years ago) which has been considered as impossible, Matsuda is recognized by Chiba Prefecture as a holder of Important Intangible Cultural Property.
Two participants from MIT also joined in the practice.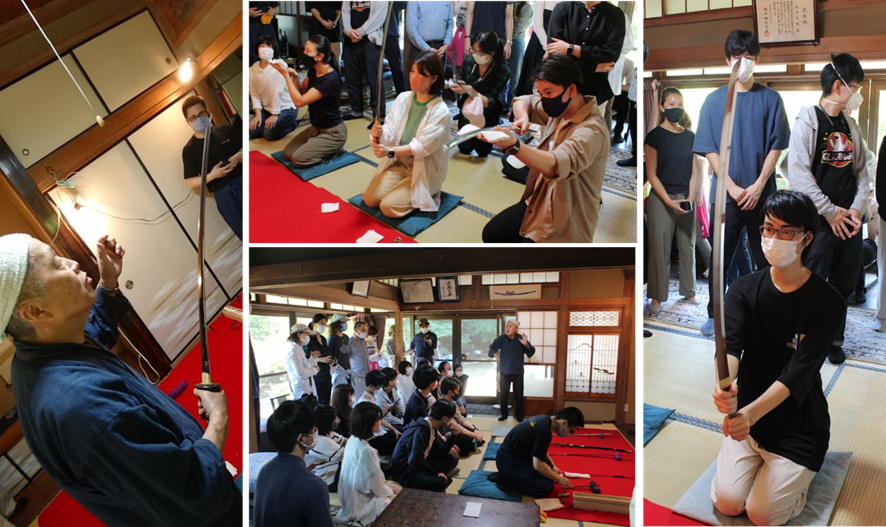 Matsuda spoke about the history and spirituality of Japanese swords and the abstract beauty of the blade patterns created by metal structures through the process of forging and heat treatment. Each student actually took a turn to hold and appreciate three Japanese swords in his or her hands. It was the first time for the students to touch Japanese swords, and they took time to appreciate each one, focusing on its shape and the ripple patterns that emerged when exposed to light.
Final Presentation (July 6)

On the final day of the course, each group made a presentation on how to develop a business for tatara iron making and its product, Japanese iron, from a global perspective, utilizing the knowledge they had learned and the experiences they had gained through the hands-on practices.
The multicultural group work generated a variety of ideas, including proposals for commercializing products by fusing them with the technology and culture of the home countries of the international students, adding value to everyday items such as musical instruments and cookware, and ways to advertise the products. One group came up with a product inspired by their experience of smashing the kera during the tatara iron making practice, demonstrating how much they had learned from the lectures and the practices.
Tokyo Tech GSEC plans to hold the "Traditional Technology and International Co-learning" at the same time next year, with further enhancement of the course content, and looks forward to inviting MIT students to join for the practice sessions.
Participants' voice
I am impressed by the collaboration of all of the teachers and appreciate this chance to learn Japanese traditional culture by iron. I didn't expect there are so many teachers assisting us including the course itself, the translation for international students, the help during iron making and sword appreciating, and the ways teacher gave for us to put forward and promote our business ideas. (M.S. from China)
This course was full of activities that could never have experienced in any other major courses. This was the most interesting course that I have taken so far. (N.M. from Japan)
The question section for each video study material helped me remember the important features of the Tatara making process easily. (D. D. from Vietnam)
During the group work, I felt frustrated that I was not able to say what I thought because I did not have sufficient English and communication skills. But if you try hard to express yourself, people will listen! (A.N. from Japan)
The course was very nice and enjoyable! It would be nice if we had another chance to finish polishing the letter knives to the point where we can fully use them, maybe given them a handle. (F.B. from Brazil)
For international students in particular, there is also the coverage of English so that you can join the course with no worries. The plentiful teachers and TAs ensure that every student is cared for …… I really appreciated this class. (M.Z. from China)
Most students around me do not know that such a class exists, so it would be nice if this course could be advertised to many students. (Y.A. from Japan)
This course requires a lot of time and effort, but definitely an unforgettable experience for a gaijin like me. Highly recommended if you are bored of normal courses at uni. (T.H. from Vietnam)
I realized that communicating in English and with international students involves different values and manners from those when talking with Japanese students. (S.I. from Japan)
Comments given by Participants from MIT
The Sword Appreciation event was one of the most memorable experiences I have had in Japan! I learned about the complex and meticulous steps of the production of Japanese swords, and learned how to appreciate this mastery. I am also grateful for the opportunity to have met some of the students from Tokyo Tech. Since I was a participant of the virtual MIT-Tokyo Tech Japanese language exchange program for 2 years during the pandemic, it was a special opportunity to interact with students from Tokyo Tech in person.
It was a unique and special opportunity to visit master swordsmith Matsuda-sensei's atelier with Tokyo Tech. It provided a view into, and firsthand experience of, Japanese craftsmanship that I otherwise would not have had a chance to enjoy. While swords no longer have functional use in modern society, I have learned that this has enabled swordsmiths to explore and immerse in a whole world of artistry while crafting swords. The trip allowed us to see and touch this artistry up close, and even try our hand at forging a sword ourselves.
Related links