NEWS
Free virtual screening of the film "Picture a Scientist" and casual discussion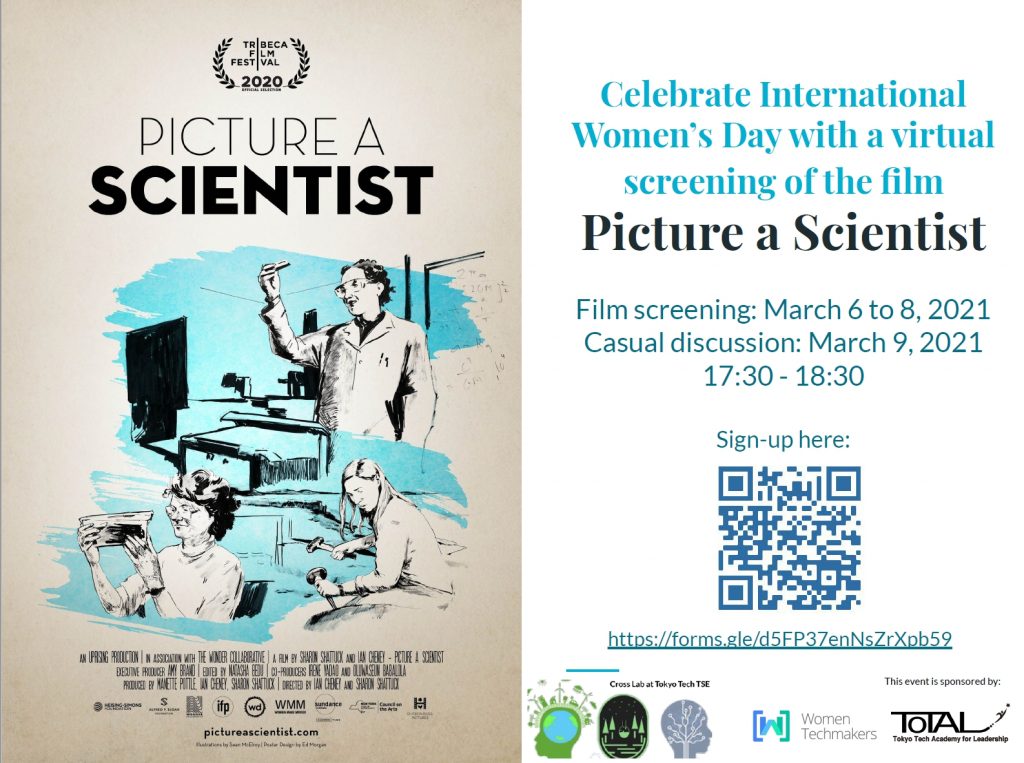 The following event by May Carlon, a doctoral student at Tokyo Tech, will be held from March 6-March 9, 2021 with co-sponsorship by Tokyo Tech Academy for Leadership (ToTAL).
■Outline of the event:
This year, the International Women's Day will be celebrated on March 8 with the theme #ChooseToChallenge.
Join us in celebrating IWD with a free screening of the 2020 film "Picture a Scientist."
This film featured in the 2020 Tribecca Film Festival chronicles the journey of women scientists as they challenge science to be more diverse, equitable, and open to all.
The film will be screened from March 6 to 8, 2021, followed by a casual discussion on March 9, 2021 from 5:30PM to 6:30PM.
■Virtual screening of the film "Picture a Scientist" (free of charge):
March 6, 2021 (Sat) – March 8, 2021 (Mon) *The film can be viewed anytime between the period above. (Approx. 95min. long)
■Casual online discussion (free of charge) :
March 9, 2021 (Tuesday) 5:30pm-6:30pm (JST)
■SIGN UP HERE: https://forms.gle/d5FP37enNsZrXpb59
※Details will be sent to participants later.
■Eligibility: Tokyo Tech students and faculty
■For more information on the event, film, IWD and Ms. May Carlon:
http://www.total.titech.ac.jp/english/news/2021/02/picture-a-scientist.html
■Contact: ToTAL office
e-mail: total.jim@total.titech.ac.jp