Imperial College researcher explores the student perspective of Tokyo Tech's education reforms
Student Stories
From GSEC students, both finished course and present, about their study abroad experiences around the world.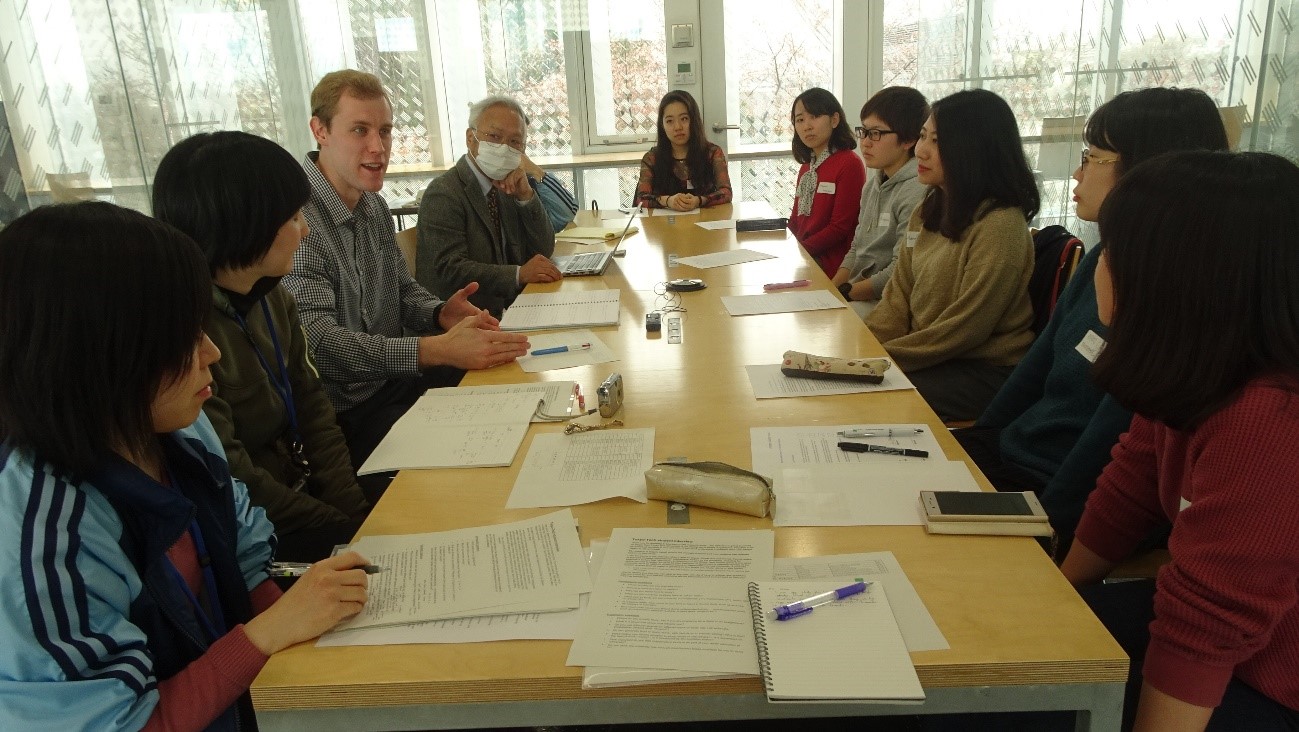 Imperial College researcher explores the student perspective of Tokyo Tech's education reforms
PhD candidate from Imperial College London, Mr. Luke McCrone interviewed six Tokyo Tech undergraduate students who have registered for "Global Scientists and Engineers Course" to seek their opinions on March 22, 2018. After joining the Imperial-Tokyo Tech Global Fellows Programme held at Tokyo Tech at the beginning of March, Mr. McCrone stayed longer for a research visit to explore the "Student perception of potential educational spaces" under the supervision of Professor Mizumoto.
The interview session was opened by Professor Mizumoto who is the current executive Vice President for Education. This introduction was followed by a series of questions posed by Mr. McCrone starting with initial demographic questions, including the students' origin and major, and then followed by a set of exploratory questions relating to the research topic. Questions focused on the student perception of 'non-formal study' such as study preparation and revision as well as the type of physical space used for this kind of study. The questions sought to learn about how many hours per week the students spend on non-formal study, where they carry out their non-formal study and how important they feel this kind of study is as part of their wider education at university.
Six students were a little bit nervous at the beginning but soon answered questions honestly on how they approach and manage their non-formal study. Most of them said that they regularly study alone, however, when they want to solve problems about lectures and difficult questions, they discuss directly with their friends to share solutions to problems often contacting them online by texting and/or using apps. They also said that they each have preferred space for their independent study: their own room at home, seminar rooms, laboratories and favorite cafeterias. Some of them confessed that they face challenges with certain spaces on campus, especially before examination period when spaces are busy. Many of the interviewees remarked that the type of work they had to complete would guide which space they choose to study in. This led them to realize that the space they use can directly impact their learning experience.
Before and after this meeting with students, interviews with staff were also held. Mr. McCrone asked them about what kind of changes Tokyo Tech's education reform brought about, especially in terms of spaces for students and staff. Mr. McCrone was kindly given a campus tour of the Ookayama spaces to complement the interviews he carried out.
Following his visit, Mr. McCrone explained: "By understanding the student perspective of study space, institutions like Imperial College London and Tokyo Tech can design spaces and curriculum more effectively in future."
Reference: The 1st Imperial-Tokyo Tech Global Fellows Programme 2018
Read other student stories