NEWS
International Exchange Program: Outbound 2021 Winter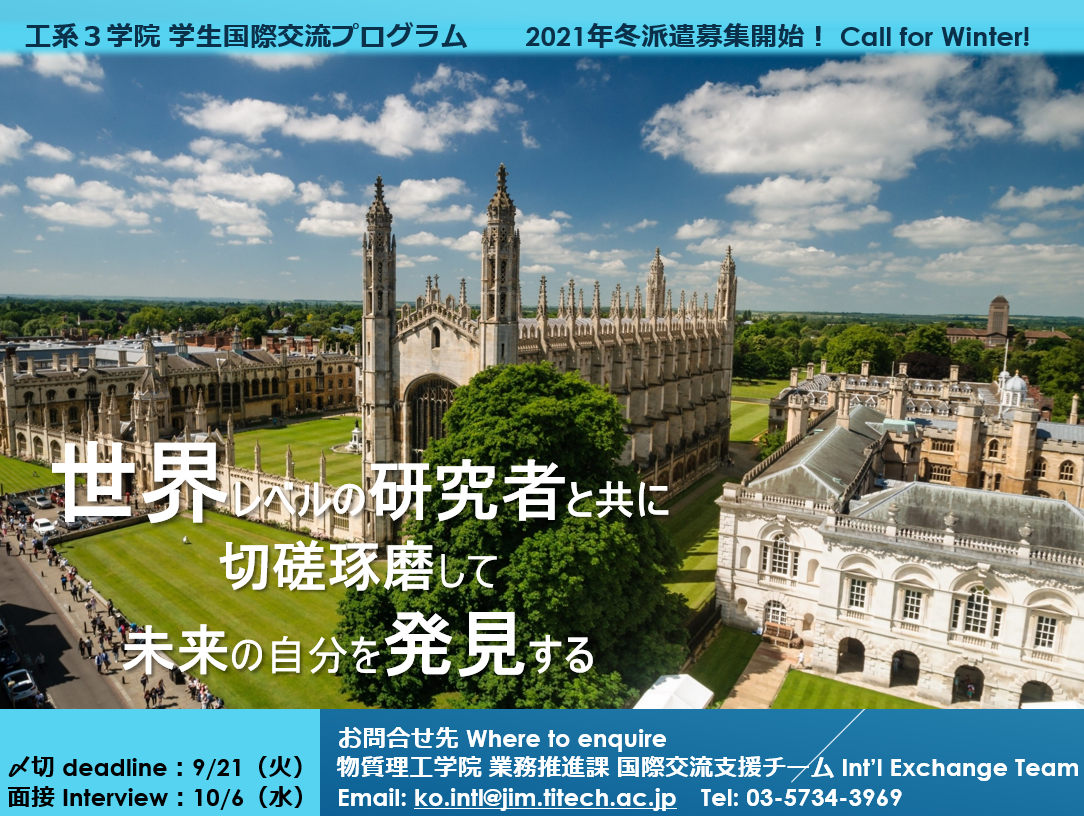 We are pleased to inform you that now we are accepting applications for the International Exchange Program Winter call of the three engineering schools.
There are five categories (C1 – C5) in this program, and students who are selected through screening will receive partial support for their study abroad (dispatch) expenses.
Tuition fees at universities in the C1 and C2 categories will be waived.
Research eligible for scholarship support is as follows:
1. Research under a supervisor at an host university, etc.
2. Research to expand the scope of the student's own research
Not eligible for scholarship support
1. Joint research with Tokyo Tech
2. Research to carry out part of the dissertation research
3. Study abroad for the purpose of earning lecture credits
– Recruitment Category: (C1) – (C4)
– Recruitments:
First-year students or above in a regular master's course at three engineering schools (School of Engineering, School of Materials Science and Engineering, and School of Environmental and Social Science and Engineering) as of October 2021 (working students are not eligible to apply).
– Deadline for application: strictly by noon September 21 (Tue), 2021
– Interview screening:  Afternoon on October 6 (Wed), 2021
*Details of the interview will be provided to those students who are eligible for the interview
 
– Start of travel:  December – January 2021
For more information about this program, please check the below websites and application guidelines.
<Call for Winter><Program Guidelines><CfA>
<Attention>
In response to the spread of Covid infection, the implementation of programs to dispatch and
receive students from the second quarter of school year 2021 will be determined on a case-by-case basis for
each program in accordance with the University's policies.
(8) Policy on the Acceptance of Foreign Faculty Members, Researchers, etc. from Abroad and Foreign Students
Living Abroad
(10) Policy on Overseas Business and Personal Travel of Faculty, Staff, and Students.
Regardless of the level of the university's policy, it is still a requirement to consult with and obtain the consent of the family, guarantor, and academic advisor.
If the University's Policy 10 is Level II, permission must be obtained from the Executive Vice President (Education).
When the following situations (a)-(d) will continue, or not improve by 2-3 months before the start of your study abroad, you may discontinue your overseas study or change your plan.
●Where to apply & enquire (and about category C5)
School of Materials Science and Engineering
Int'l Exchange Team
Email: ko.intl@jim.titech.ac.jp
TEL: 03-5734-3969